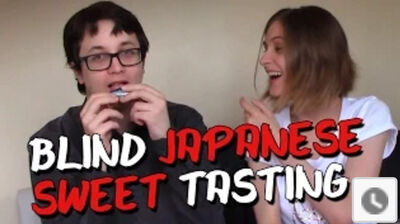 Danni had found a Japanese candy box, where you can get a pound of Japanese sweets monthly. So she decided to order this and have Rage and herself try it, so far there have been 3 of these unboxing videos, originally it was on danni's channel but it ended up continuing on Rage's channel as he wanted to do more on his channel besides gaming videos.
The 1st video Edit
Danni and Rage's first Oyatsu box was the August box which they enjoyed all of it except for the powedered sweets on danni's part, the box consisted of the following....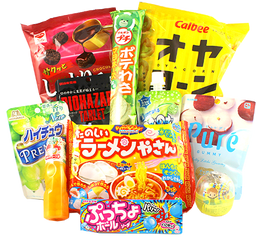 Calbee - Oyacorn Cheddar Cheese
Capcom BIOHAZARD - Resident Evil Candy
Morinaga Vegetable Ramune
Kracie DIY Ramen Kit
Pucchu Ball - Ramune
Pure Lychee (Summer Edition)
Nom Nom Melon Sherbert - White Grape
Crispy Shittorichokom
Petit - Wasabi Mayo
Japanese gachapon fish toy
Japanese Sweets Unboxing Pt.1 Japanese Sweets Unboxing Pt.2
2nd Video Edit
The 2nd box was the September box, it wasn't as enjoyable as the 1st box according to Rage and Danni but they grinned and bared it as only a few were good while the rest weren't. This box consisted of....
Yokai Watch Pop Ramune Candy

Tohato Caramel Corn - Strawberry - School Idol Project
FIT'S Mario Bro's - Ginger Ale
Yokai Watch Pop Ramune Candy
Bikkuriman - Star Wars
Hi-Chew - Acerola
Shigekix - Energy Drink Flavor
Neru Nerune - Mystery Flavor
Black Pote Long - Ramen Flavor
Hokkaido Milk Candy
Japanese gachapon from the Pokemon series(Chespin)
Blind Japanese Sweet Tasting with Josh and Danni - Tougher Box!
3rd Video Edit
This was the October Oyatsu box, but this time Rage and Danni decided to "spice things up" by each of them taking turns wearing a blindfold and guessing what candy came from what package. Rage ended up winning, but there was some speculation that Rage cheated as you could see his eyes as he decided to wear his glasses along with the blindfold. 
(NOTE: the oyatsubox website had messed up on their past boxes page and accidentally duplicated the September box for the October box, the contents of the October box will be listed on this page once the website has been fixed)
Blind Japanese Sweet Battle with Josh and Danni!
The sweets that are listed are not spelled wrong, the names were copied directly from the Oyatsu box website
thanks to this we now know that Danni does not like powdered sweets